White Parquet
White is light, it is absence which enables full scope for creation: white wood flooring exudes the splendour associated with this colour over thousands of years. A symbol of purity, white is laden with the allure of intrinsic fragility. A white wood floor presents itself as a blank canvass on which we are free to create any kind of interior. It is also a surface which captures the gaze, engaging it in an infinite array of barely perceptible nuances created by ever new and different plays on light.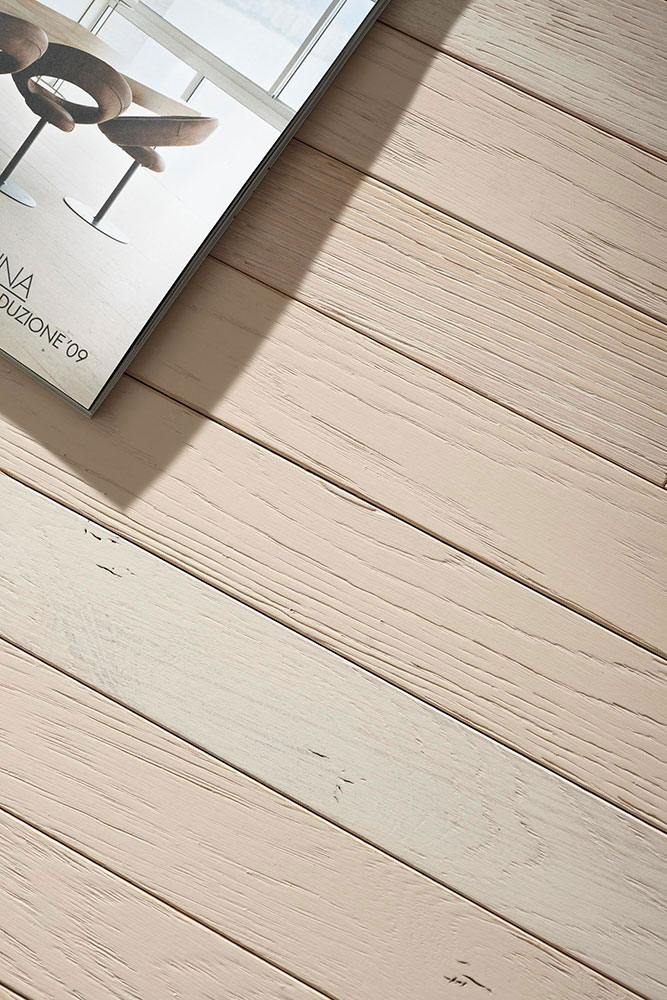 White wood flooring
In a white wood flooring it is always possible to choose the degree of colour prevalence over raw material: colour exploration may translate into a barely perceptible coating of light, through which the original wood colour can shine, or a more decisive coating through which veining is visible in a more or less decisive way. Or, we may choose to embrace absolute supremacy: white wood flooring becomes a uniform expanse where only the contours of single pieces determine non-uniformity, creating a language of lines and white.
Light wood flooring
White wood flooring is the result of human intervention on nature. An infinite array of options awaits us between white parquet and colour parquets. Light wood parquet is made using luminous woods and tenuous tones, where white is mitigated by warmer nuances. These parquets are for those wishing to express themselves by means of light signs, interrupted by veining which may either flow like delicate water colours, or stand out in vigorous graphite lines.
Natural light parquets
The world of light coloured parquets made using natural woods is one of gentle notes and contrasts: the light yellow of ash is rich in light and warmth, its veining emerges with grace, balance and harmony. White maple brings us even closer to candour, whereas pear darkens tones, tending towards pink with delicate shades, barely perceptible brush strokes.
White natural wood parquets: is there a border?
The most fascinating quality about the world of colour is that it is totally devoid of borders. We have identified some woods for light coloured flooring which are close to white and enrich shininess with warmth. However, it is down to each of us to establish just where the border between white and tenuous colour flooring lies. We invite you to visit our section dedicated for further inspiration. Establish your very own boundaries for your ideal white flooring and we'll turn it into reality.
Would you like more information now?